House - Fontainebleau
(77300) - SEINE ET MARNE
€ 1,930,000 (HAI)
Réf : A13623 - EXCLUSIVITY LEGGETT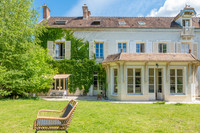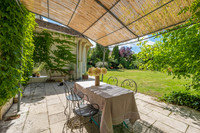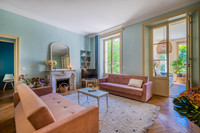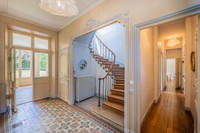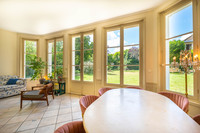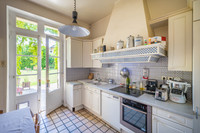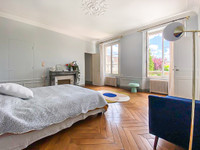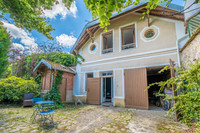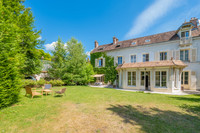 Close to the château - Mansion of 354sqm with enclosed garden and garage.
UNDER SALES AGREEMENT - Located just 200 meters from the main entrance of the Château de Fontainebleau, this mansion built in 1850 offers approximately 354 sqm of living space, a large garage and a 923 sqm enclosed garden with trees.
Request for more information
Réf : A13623 - EXCLUSIVITY
Voir l'annonce en Français
Detailed description
UNDER SALES AGREEMENT - One hour from Paris, in the heart of the imperial city of Fontainebleau, a few steps from the main courtyard of the Château and its famous horseshoe staircase, the property consists of a main house, a guest house and a double garage, all set in a beautiful enclosed garden of 923sqm.

This 1850 mansion has retained its original features, such as cement tiles, herringbone parquet flooring, mouldings and cornices, and marble fireplaces.
The main house offers a living space of approximately 290sqm.
It is arranged on three levels and has a full basement.
The ground floor is dedicated to the living areas.
The main entrance separates the living room and office on one side, and the kitchen and dining room on the other. Finally, a magnificent and luminous winter garden links these different spaces. A guest toilet completes this level.
All of the rooms on the ground floor have direct access to the garden.
The sleeping quarters are spread over the upper floors and are accessed by a wide English staircase.
Thus, the first floor is composed of a luminous suite with its vast bedroom, a dressing room and a bathroom, a bedroom, a bathroom, a linen room and independent toilets.
The second floor offers four bedrooms, a bathroom and independent toilets.
In the basement: boiler room, two storage rooms and a wine cellar.

A charming guest house houses a three-room flat with a small kitchen and shower room as well as a double garage and workshop.
Outside parking for three cars completes this elegant property ideal for family life in the heart of the city.

living room 24,50 sqm
dining-room 20,45 sqm
kitchen + back kitchen 20,48 sqm
conservatory 29 sqm
suite 1 - 1st floor 44,54 sqm
suite 2 - 1st floor 29,27 sqm
Appartment in the guest house : 63 sqm

A designated Ville Impériale ("Imperial City") with its history, château, squares and sumptuous Italian-style theatre, Fontainebleau is a culturally enriching place to visit. Its forest and park also make it an ideal destination for strolling, rambling and rock-climbing.

Fontainebleau is a town on the very threshold of Paris whose royal history shines undiminished, a town where life is good. With its magnificent Grand Parquet and hippodrome, it has developed into a major centre of the equestrian arts, hosting events of great renown in the world of horse-riding.
During your visit, you can also learn the history of the streets of Fontainebleau, with their sandstone architecture and some 40 listed buildings. The absence of large-scale supermarkets (which are banned in this designated Forêt d'Exception) means that the town-centre businesses are thriving, unlike in other small, provincial towns.
The second-largest national forest in France, it is concentrated mainly on the municipality of Fontainebleau. Fontainebleau is the largest forest area in the Ile-de-France region and boasts the distinction that more than 98% of its territory is occupied by two national heritage attractions: the château of Fontainebleau and the national forest of Fontainebleau.